Anne Brown,
Director
As owner and director of Head to Toe Dance, Ms. Anne strives to bring innovative dance education to Dripping Springs  and all around Austin Tx.
We are proud to have such a high caliber of dance instructors working with our students at Head To Toe Dance Studio.  We believe in challenging our bodies, strengthening our confidence and astounding the world!
---
Chelsea Affatato,
Assistant Director
Being a dance instructor is much more than a job for Chelsea Affatato.
Beginning her formal dance training at 14, Chelsea discovered her deep passion for dance as a Member of the Dripping Springs HiSteppers, where she was a member for all four years of high school; and nominated as an All American.
Continuing her dance education, Chelsea auditioned for and trained with the world famous Kilgore Rangerettes at Kilgore College.  In addition to her role as Assistant Director at Head To Toe Dance Company – where she began as an intern in 2013, Chelsea also continues her college studies as a dance major.
With eight years experience as both a student and instructor, Chelsea plans to pursue a career in dance, both teaching and performing.

---

Daniel Barker, Technical Director
Daniel's talent with technology, graphic design and years of experience working with children makes him a wonderful fit at Head to Toe Dance.
You may see him designing a Facebook ad, cutting music or driving a van load of kids to their classes at Head to Toe.
Daniel grew up in Dripping Springs, is married to Mariah (who you will often see helping out at special events) and is working on his BA in hopes of serving in full time ministry in the future.  We are blessed to have Daniel with us!!
---
Jordyn Barker, Hip Hop Instructor
Jordyn is a multi-talented young woman who brings a lot of strength and energy to the studio teaching Hip Hop and Contemporary dance. She is often seen, giving it her all, at adult Hip Hop classes and conventions throughout Texas.
Jordyn grew up being a part of the studio's everyday routine assisting with classes and other tasks, attending convention and competitions both to compete herself and to support the dance students, and helping students with their choreography. As a black belt in Taekwondo, Jordyn is a certified instructor and a World Champion.
Inspiring and motivational, Jordyn's classes are the highlight of many students' week.
---
Erika Doyle, Dance Instructor
Erika started dancing at the age of 4 and took recreational classes until she was 13. At the age of 13, Erika decided to start taking more classes and join the Head to Toe Dance Company. She has been on the Kick, Teen and Senior Companies over the past several years, performing and competing throughout the state. Erika has trained in modern, ballet, contemporary, jazz, acro and hiphop, as well as taking classes in Stretch and Strengthening and Turns and Progressions.
A few years ago, Ms. Anne encouraged Erika to begin assisting classes. Through assisting, Erika has continued to improve on her basics as well as watch and learn much about the art of teaching.
In 2016, Erika was invited to join a professional modern company, Chamacos Dance Co, which is led by Inna Grudtcina and Aurelio Planes. Through this opportunity, Erika traveled to Mexico to perform in a dance festival where she was discovered by choreographers from Cuba. This spring she will be traveling to perform and study with professionals in Havana and Guantanamo. We are so excited for her!
Erika graduated from DSHS a year early in June of 2018. This year she has been studying dance at ACC and has been invited to perform at a College Dance Festival where she will be seen by professors from colleges throughout the country. The ACC professors have asked Erika to travel to assist them with choreography projects as well.
Over the next few months Erika will be finishing up her career as a student at Head to Toe, competing with our Radiance Company, doing solos choreographed by Anne Brown, Sam Nelson and Inna Grudtcina, and performing the title role of Mary Poppins in the Head to Toe Spring Ballet.
This fall Ms. Anne invited Erika to choreograph a musical theater number with our Junior Company to "Welcome to Wonderland". Erika has worked with this company throughout the year and is looking forward to seeing her first piece of competitive choreography on stage in a few weeks. Erika's work ethic, consistency and passion for dance is a true example for our younger dancers. Head to Toe Dance looks forward to having "Miss Erika" continue her career with us as a teacher this coming summer! What a bright future we see for her!!
---

Inna Grudtcina, Dance Instructor
Inna Grudtcina was born and raised in Vladivostok, Russia. She started to dance and perform at the age of 14. She has been teaching contemporary, jazz and musical theatre since 2007.
Inna was developing her career in different countries; she was a principal dancer in shows in S. Korea ("Cinderella"), China, Spain (a tribute to Michael Flatley's "Lord of the dance") and Israel ("White noise" Vertigo Dance Company repertoire).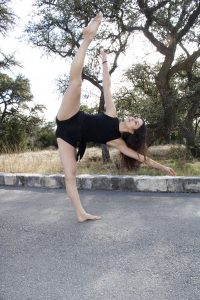 She was trained in ballet by M.Fyodorov and A.Strokin – nationally recognized ballet teachers. She got her contemporary dance training in Contemporary Dance Company "Kauri" (Russia) and at Vertigo International Dance Training Program (Israel).
Back in Russia she was a teacher and successful choreographer. Her works won awards at regional and national dance festivals and contests.
Since Inna found her passion in dance she kept on developing her dancing and teaching skills at numerous workshops in Russia and abroad.
Recently she moved to Austin, TX which is how she found Head to Toe Dance. The desire to share her knowledge, encourage and inspire young dancers is what brought her to United States.
Inna is a former dancer of Ballet East Dance Company in Austin. She teaches Contemporary, Modern, Ballet, Improvisation, Barre Pilates and is currently a member of Lotus Contemporary Dance Company.
---

Haley Sikes, Dance Instructor
Haley Sikes is a dancer and choreographer from the Austin area. She is known for her upbeat and positive personality.
Having trained at Head to Toe during high school, Haley has explored many styles of dance including Ballet, Pointe, Jazz, Contemporary, Hip Hop, and Tap.
Haley currently teaches Musical Theater and Industry at Head to Toe Dance but is also known for her fabulous Hip Hop and Contemporary choreography. You will often see Haley running company rehearsals on Saturdays. Her attention to details and emphasis on emotions in performance make her a great help in cleaning and perfecting dances.
---
Bridget Moore
Bridget joined Head to Toe Dance as the Admin Assistant in 2016. Originally from the Midwest, Bridget and her family relocated to the Dripping Springs area in 2013.
She has a Business and Marketing degree from Ball State University in Indiana and has spent her professional years working mostly with entrepreneurs and small businesses.
Bridget, along with her husband, 2 children (boy/girl twins) and 2 dogs, is very happy to now call Dripping Springs home.
---
Sam Nelson, Guest Instructor, Choreographer
Sam is an Austin native who found his passion for dance when he was 10 years old. He spent 6 training at a local studio and competed on a pre-professional dance company. During these years Sam attended many dance conventions and competitions and received numerous awards including 3 National titles and 4 Regional titles. He has also received scholarships from Jump, 24 Seven, Radix, Hollywood Connection, the Streetz, NYCDA, Tremaine, Velocity, WCDE, Adrenaline, NRG, Revive, Wayne State, and AMDA. In addition, Sam has received numerous scholarships to train at Steps on Broadway, the EDGE PAC, Complexions, Summer Dance Sessions, Soul Escape, Elevate, and Trans4m.
Sam is a versatile dancer who is trained in Contemporary, Modern, Jazz, Hip Hop, Jazz Funk, Ballet, Ballroom, and Tap. He has learned from many top professional choreographers and helped teach young dancers of all ages and levels. Sam has had the opportunity to travel across the country as a Company Assistant to the faculty touring with 7 national dance conventions including Hollywood Connection, Adrenaline, Revive, the Streetz, NRG, Tremaine, the Pulse, and Dance League. He is currently on faculty at NEXT GEN Dance Intensive and teaches at several studios in the Austin area.
Sam is passionate about creating. His choreography has won several Judge's Choice, Technique, and Choreography awards at Jump, NUVO, Showstopper, Platinum, Celebrity, and Top 10 Dance Challenge. One of his biggest honors was winning the National Title of Teen Mr. Adrenaline in 2016 with his Self-Choreographed solo. In 2017, another of Sam's solos won 1st Overall at Nationals at Dancearchy Ultimate Dance Challenge. He creates pieces for other dancers as well and has choreographed college dance solos that have been accepted into Marymount Manhattan, Julliard,
University of Arizona, and USC Kaufman. Another very proud moment came in 2018 when one of his students won 1st Overall at Rainbow National Dance Competition with the solo he choreographed for her.
Sam recently performed at Vidcon 2018 at the Youtube Arena in Anaheim, CA and can be seen dancing alongside Nia Sioux in her latest music video "FLXXN".
Upon graduation Sam plans to move to LA to continue his dance training and double major Dance and Statistics in college. When he's not dancing, Sam enjoys listening to music, playing with his 2 dogs, traveling, spending time with his friends and family, and serving in his community.
---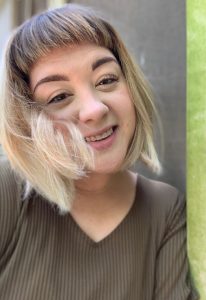 Brie Underwood – Guest Instructor/ Choreographer
Brie Underwood grew up dancing, teaching, and growing in the Austin area.  Beginning her training at age 9, she has been very fortunate to learn from and to compete under some of the best in the industry.  Her educators and mentors include Cheryl Copeland, Quinton Weathers, Heather O'Hara, Alexa Moffett, Erica Sobol, and many more – not to mention her own dance students whom Brie learns from and hones her skills from every day.
Brie is the owner of Evolution Dance Collective and the Director of EVOLVE Dance Company located in Leander, Texas.  Her students are known for a high level of professionalism, creativity beyond their years, and technique to support it all.  Brie strives to individualize each of her dancers' training and company experience to best fit their personality and goals.  Parents have come to be able to counts on Brie to build their dancer's technique and artistry while also preserving individualism and innocence.
When not training her own dancers in Leander, you can find Brie judging at competitions, teaching at other local studios, or furthering her dance training at workshops and seminars.  Brie is looking forward to working with the dancers at Head to Toe to bring our their true potential and to help continue grow the Austin dance community to be one of collaboration and support.
---

Kirsten Kemp – Guest Instructor
Kirsten Kemp is a former professional dancer, classical ballet instructor, creator of TwinTalksBallet on YouTube, and a Mindset Coach for dancers. No matter what modality she is using to serve others who share the same passion for ballet, it is her mission to inspire others to dance with joy, to grow in good character, and to know that their worth goes far beyond what their body can do.
A native of Corpus Christi, TX, Kirsten grew up dancing alongside her twin sister, Kelsey. At 13, their passion for ballet grew into a drive to pursue ballet professionally, which lead to training during the summers at programs such as San Francisco Ballet, Houston Ballet, and American Ballet Theatre. Kirsten went on to train year round in the top levels of the Houston Ballet Academy for two years, after which she went to study on scholarship at the University of Utah where she graduated within three years with a BFA in Ballet and a Minor in Business Administration with top honors.
Kirsten then danced professionally with Oklahoma City Ballet for one and a half seasons before choosing to step away due to a persistent knee injury. After dwelling in intense training and professional environments for so many years, Kirsten's innate passion for encouraging and supporting fellow dancers turned into her next career path.
Hence, in the summer of 2018, Kirsten began a Mindset Coaching practice, specifically designed to give dancers the individual support they need to resolve fears, doubts, and insecurities that hold them back from dancing confidently and to the best of their abilities. By holding her sessions online, Kirsten has had the privilege of working with dancers from all over the world, ranging from top professional dancers at Houston Ballet, San Francisco Ballet, and New York City Ballet, to dancers in top pre-professional schools, dancers in college programs, recreational dancers, and dancers who are facing the difficult transition from ballet to another career path. As a IBCP Board Certified Master Practitioner of Neurolinguistic Programming, Kirsten has also expanded her services to help dancers heal and move forward from the mental and emotional effects of severe, shame-based teaching methods that many have experienced in their pre-professional training.
In 2019, Kirsten has launched an online recovery support program for injured dancers, called the Come Back Stronger Course, and has traveled across Texas and to Alaska to teach master classes and to deliver powerful seminars to dancers on subjects such as "How to Audition with Confidence" and "How to Use Ballet Training to Become a Highly Effective Person in Any Career Path". Paired with the nearly 300 free videos on YouTube that Kirsten has created as a resource for guidance and encouragement for dancers over the last 9 years, Kirsten is committed to serving the ballet community at large and to doing her part to create a healthier, more empowering ballet culture.
---
All of our instructors are 100% dedicated to helping students grow and become more confident in themselves and their talents.